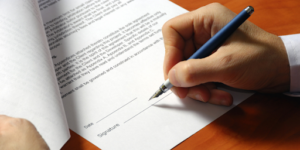 At one time or another, we have all entered into an agreement or contract with another company or individual who has failed to live up to their end of the bargain. Similarly, we have all been in the situation where an individual or company refuses to pay money that is rightfully owed to them, whether based on a promissory note, contract or guaranty. We recognize that each contract dispute is unique, and as such, K&M's experienced contract attorneys will take the time to evaluate your legal needs, discuss the risks and benefits associated with pursuing legal action, as well as offer the most cost-effective proposal and solution to resolve your legal matter.
The experienced North Texas contract attorneys at K&M understand that no two cases are alike. We will help you strategize and find the most efficient way to mitigate and maximize your damages. When appropriate, we will recommend alternative dispute resolution methods to negotiate a settlement in order to provide a more cost-effective solution to your legal matter in an effort to avoid the costs and uncertainty of a trial. Our team is known for designing creative and practical settlement agreements through a combination of litigation tactics and dispute resolution measures.
K&M's experienced contract attorneys will advance your claims or defend you against claims against you in the Dallas-Fort Worth Metroplex area, including Plano, Allen, McKinney, Fort Worth, Frisco, Garland, Arlington, and Grand Prairie. Contact the business contract attorneys at K&M for a free initial consultation
24 hours a day, 7 days a week
. We will schedule an immediate appointment to discuss your breach of contract claim as well as all of your options.